History was made on Friday when 20 extremely talented racing drivers (18 permanent and 2 reserve drivers) took the track in Germany driving identical Formula 3 cars. What made this special was all of these racers were female. The first race weekend of the W Series calendar saw both wet and dry running, testing the drivers ability to adapt to conditions as well as for many, gaining more experience in a car that they may not have raced in before.
PRACTICE:
Both FP1 and FP2 were dominated by Brit Jamie Chadwick, with Emma Kimilainen in 2nd and Fabienne Wohlwend 3rd in both sessions. The rain arrived just minutes before the second practice session, and despite the tricky conditions, there were only 2 brief red flag periods after spins for Jessica Hawkins and Tasmin Pepper.
QUALIFYING:
When it came to qualifying, it was Chadwick who again reigned supreme as she took pole by almost 1.8 seconds from 2nd place Wohlwend. After finishing 6th in FP1 and FP2, Sarah Moore improved to make up the top 3. After consecutive 2nd place finishes in practice, Finnish racer Kimilainen was disappointed to qualify in 4th after being the closest to Jamie Chadwick throughout the weekend so far. Marta Garcia, Alice Powell, Vicky Piria, Beitske Visser, Esmee Hawkey and Gosia Rdest completed the top 10.
RACE BUILD-UP:
With all the cars identical and no teams, accessibility to the drivers and cars was more relaxed for the W Series presentation team. This allowed Channel 4's Lee McKenzie, David Coulthard and Ted Kravitz to speak to the racers minutes before the start. As excitement built ahead of history being made, some were confident and some were looking forward to gaining more experience.
Starting 7th on the grid, Italian racer Piria told Coulthard: "It's going to be really tough. I don't know the car really well, its all in the learning. Every time I go on the track, I learn a little bit more and gain some confidence… I'm happy with my 7th place, it could've been better but that shows I can go better in the race."
In a new and exciting addition to race build-up, main presenter Lee McKenzie spoke to polesitter Jamie Chadwick on the driver/engineer's radio. "I'm going to treat it like any other race," Chadwick said. "Obviously starting on pole is the place you want to be, and with the dry conditions now its going to be a bit of a different race so we'll see how we get on… It'll be a sprint race and interesting to see how it pans out, whether its all green or we have safety cars."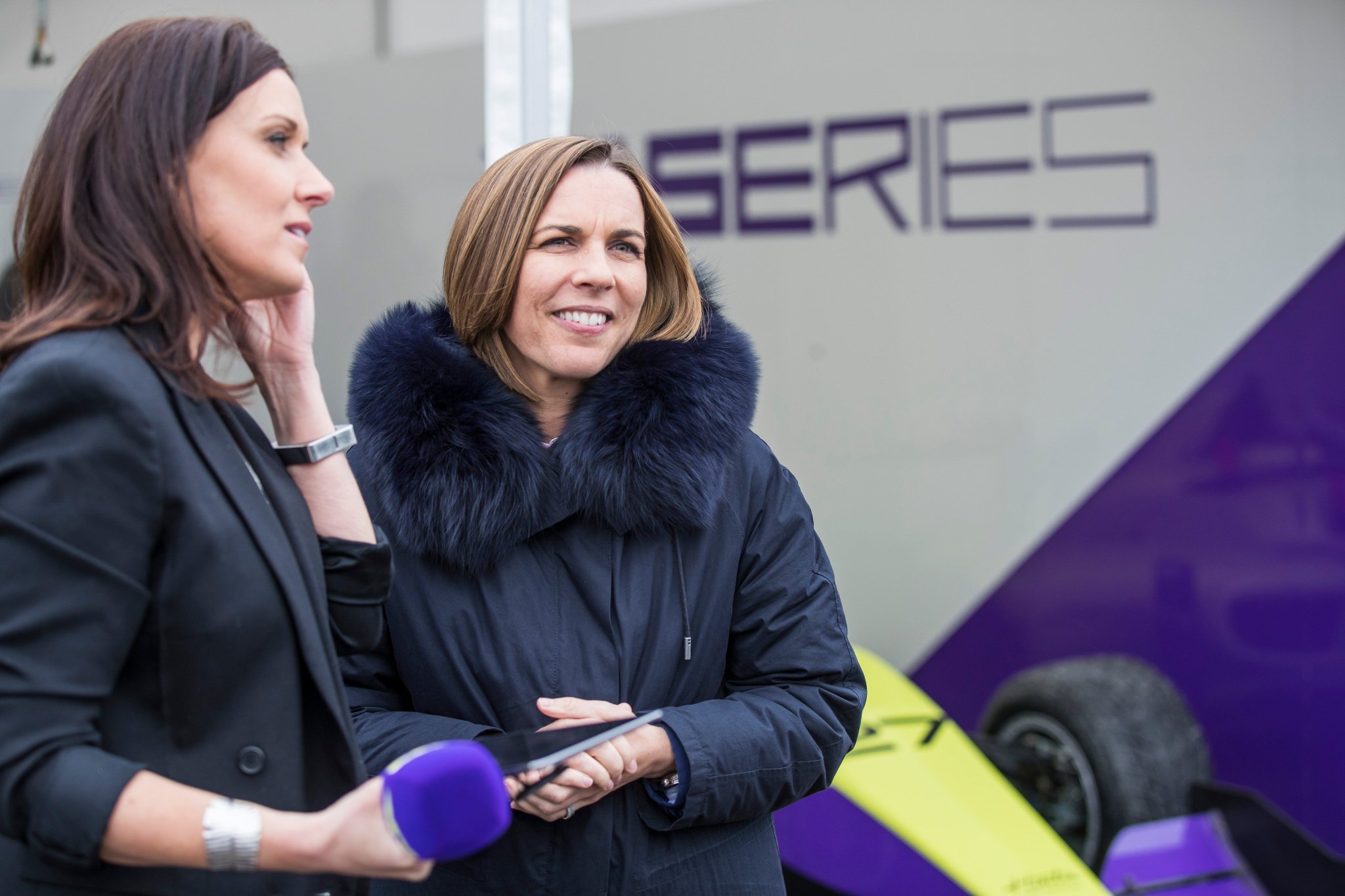 Among those attending the first ever W Series race was Claire Williams, deputy team principal of Williams F1 team. Having original not been a fan of the concept, she told Lee McKenzie about her feelings now. "I'm here just to educate myself," Williams said. "When I first heard about W Series I wasn't sure whether it was the right thing so I wanted to come and see first hand exactly what it's about. I've had a brilliant day! So much work has been done to try and get it (W Series) off the ground and they've done it in an extraordinarily quick time. I'm really looking forward to the race today and to see what these women can do. I think to give them this platform that will bring them visibility is a fantastic thing to promote more women into motorsport."
THE RACE:
Despite 'lights-out' being rather quick in comparison to the tension build-up we see on the F1 grid, most of the 18 drivers made a good getaway, with the exception of Emma Kimilainen and Sabre Cook who made slow starts. Jamie Chadwick made an excellent getaway, quickly opening a gap to those behind her. However that hard work was undone when she locked up into turn 6, running wide and allowing 2nd place Sarah Moore to take the lead. At the same corner, towards the back of the field, a collision between Canadian Megan Gilkes and Kimilainen lead to their races ending at the hairpin. With the safety car deployed allowing the marshals to remove cars #7 and #49, it also gave the drivers the opportunity to close the gaps to those in front with the top 5 consisting of Moore, Chadwick, Powell, Garcia and Wohlwend, and Japanese driver Miki Koyama, who started 17th in 11th place.
After several laps behind the safety car, Sarah Moore backed-up the pack allowing her to speed away from Jamie Chadwick. However the gap wasn't big enough, as Moore went wide out of turn 1 and Chadwick's racing experience shone as she overtook her compatriot only 1 corner later, despite locking up. Alice Powell took advantage of this, closing up to Moore and moving into 2nd place. With just under 18 minutes left on the clock, Sarah Moore, Marta Garcia and Beitske Visser engaged in a 3-way battle for 3rd place. Under the pressure, Moore went very wide, losing places to Garcia, Visser and Fabienne Wohlwend. With Garcia joining Alice Powell and Jamie Chadwick in the podium positions, the top 3 opened a gap to the rest of the field with another 3-way battle starting behind them for 4th position.
In the lead, it wasn't straightforward for Chadwick with Powell slowly catching her, but with 12 minutes left, it was Marta Garcia who was the fastest on track. However, Jamie Chadwick began increasing the gap to former-GP3 driver Powell who had Garcia quickly approaching in her mirrors. Further down the field, with 4 minutes on the clock, Vicky Piria span losing 6 places as she fell from 9th to 15th, picking up a marker board as she went off-track. In the last couple of laps Garcia reduced the gap to Powell to only 0.5 seconds, however it wasn't enough as the she took the flag in P3.
Jamie Chadwick became the first ever winner by a 1.3 second margin over Alice Powell, with Marta Garcia completing the podium places. Beitske Visser, Sarah Moore and Fabienne Wohlwend continued their battling ending the race in 4th, 5th and 6th. The top 10 and final points positions went to Miki Koyama, who made up 10 places from her 17th place start, Tasmin Pepper, Gosia Rdest and Caitlin Wood.
With points awarded as in Formula One, Jamie Chadwick goes top of the driver standings with 25 points, followed by Alice Powell with 18 and Marta Garcia with 15. In 2 weeks time W Series will return in Zolder, Belgium for the second round of the championship where Chadwick will be hoping to extend her lead, and many of the others will be hoping to chase her down.